56 Gift Ideas for the Writer in Your Life
56 Gift Ideas for the Writer in Your Life
By Jenn Scheck-Kahn
Would a great admirer of Jane Austen, such as your mom, love nothing better for the holidays than to prance about in an Austen-inspired dress, sipping Austen tea and showing off an Austen bandage? Or would your boyfriend, who loves Poe too much and can't sleep without his plush raven, chug a Poe-inspired beer while wearing a Poe tattoo and tapping a Poe bobblehead?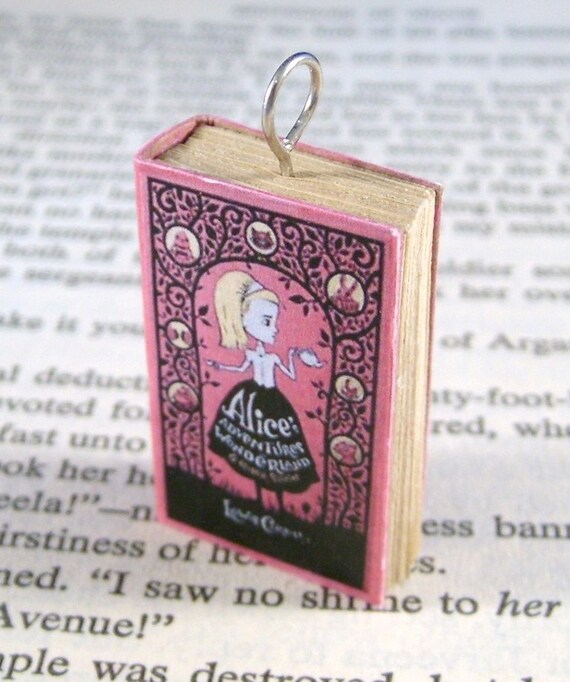 We all love a ridiculous gimmick, but if your dearest are devout readers who also write, no doubt they'll delight in a gift that's meaningful, one that inspires and encourages them to put pen to paper as well as communicates your feverish support of their ability to create. Certainly you can find
posters
,
pillows
,
plates
,
t-shirts
,
jewelry
, and
more
jewelry
and
even
more jewelry
that are the window dressings of literary obsession; perhaps the gift you seek doesn't advertise that your friend is a writer or distract her from writing: it embraces her quirks and bookish inclinations and raises the bar.
Case in point: you might think a self-appointed scholar of Fredrick Douglass would squeal for a Douglass doll and maybe he would, but perhaps a book that visualizes the physical journey in Narrative of the Life of Fredrick Douglass, An American Slave would deepen his understanding of it? Be that gift giver, the one who gives the indispensable something that a writer is about to learn she can't live without. Can't hurt to toss in the doll, too.
Below you'll find groups of gifts organized by how or where that gift will be cherished.
Where She Reads
All skilled writers are voracious readers---that's a given. But do all writers have beautifully-designed, comfy reading nooks with who-woulda-thunk gadgets? They should.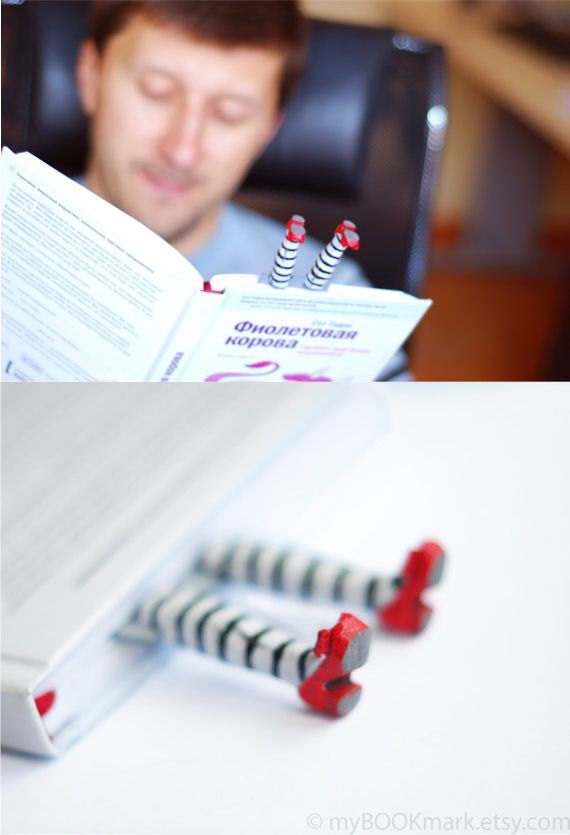 If your amour is a romantic who reads to the tune of birdsong, consider a hammock along with a silly set of flipflops. For those who prefer to burrow with a good book, a pair of slippers, a mug and a warm traditional blanket or a reading robe will be beloved by your beloved. Tell him that he's worth any bookcase his heart desires, be it one that floats, inverts, or doubles as a nightstand.
But above all else, consider carefully the best light to illuminate her personal enlightenment: how about a wall sconce that doubles as a bookmark or an old-fashioned book light? Perhaps a new fashioned book light instead? A jokester might get a kick from a light that's also a book.
Looking for stocking stuffers? Try a clever bookmark, magnifier, placeholder, or personal embosser.
Where He Writes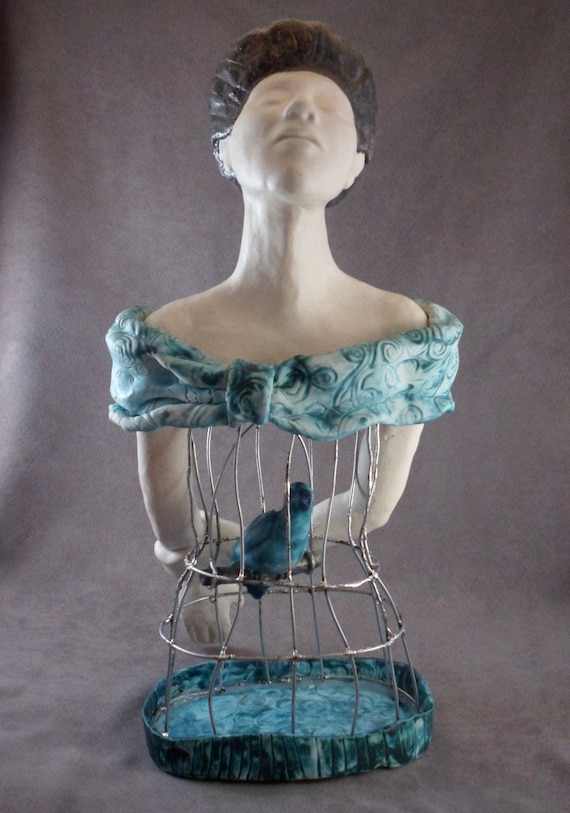 Where he writes and what he uses to write with can influence what he writes about. Is her desk unstable? Are the walls of his office bleak? Help create an inspiring surrounding that can invigorate his writing. Top her desk with elegant tools for her trade: a keyboard tray, decorative fingerless gloves, an eye glass holder, an hour glass timer to guide her discipline, a DIY lampmade from her favorite books, or a book stand to hold printed drafts she's marked up. Hang a pendant or wall art or decorate his desk with a photograph or statue. Does she prefer the sound and feel of an old fashioned typewriter? Give her this classic with a USB update. When he touches these objects everyday, he'll think kindly of you, an insurance policy that's necessary because you never know if his writing will turn autobiographical.
What Tickles the Senses While She Writes
Some write to music and although they may already have headphones, speakers and subscriptions to their favorite stations, what they won't have is a mason jar amplifier or a manual music box. Others are distracted by sound and may have not yet found a sense-rich environment, other than alcoholic libations that bring out too much of their inner Hemingway, and to them you might introduce the power of evocative smells. It's tempting to go for a familiar smell, like new books, or the less pleasant familiar smell of old books, or even a smell of an imagined place from a beloved book, but don't lose sight of your goal here: to infuse a creative cave with sweet scents that prompt proliferation, not distraction. Stick with candles, the tried and the true.
What Gets Everyone Writing
Let's skip the solutions that are too difficult to giftwrap - time away from responsibilities, office space, childcare, funding - and home in on the elephant in the room: books are written by people who are reading.
What if you could give a cornucopia of poetry, fiction, and creative nonfiction bound and bundled in a package that arrived via the post on a regular basis? In fact you can, by subscribing your lucky writer to Journal of the Month, a service that sends a different, print literary magazine on a regular basis.
What's a literary magazine, you ask? Literary magazines are comprised of fiction, poetry, creative nonfiction, art work, among other genres, and act as the bread and butter of writers. Because they are published a few times a year, they capture the literary trends and persuasions of right now, so reading them not only puts writers in conversation with their contemporaries, it also introduces them to places where they might want to publish their own work. Journal of the Month can inspire your wordsmith with cutting-edge writing that's new to him, while supporting the organizations that give writers their first publishing credits.
Full disclosure: I liked the idea behind Journal of the Month so much that I created it. When I wanted to build my literary knowledge and feel inspired by a diversity of magazines from all over the US, I couldn't get my hands on any magazines but the big names, even though there are more than 600 in print. Why subscribe to one magazine when you can subscribe to all? You get the idea.
Afterword, Plus Two More Novelties
You might be wondering why you can't simply buy a book. It's often small, moderately-priced, easy to wrap, and adored. Here's why: it's like purchasing a luxury car for a mechanic. You can't know all she knows and prefers - it's too complicated. What a writer chooses to read at a given time is deeply wedded to what he's writing, although that relationship may be opaque to everyone else. Would you surprise a runner with a meal on the night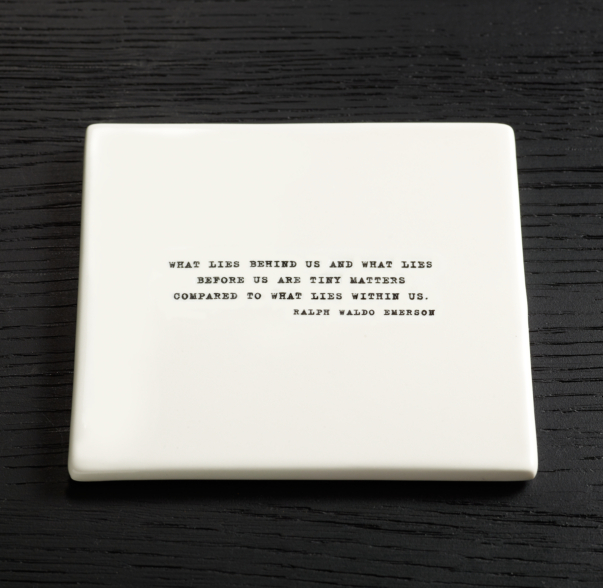 before she'll run a marathon? You can't know what her body needs to prepare or what superstitions guide the food choices she'll make. And so it is with reading and writing.
Every novelty gift has an ideal recipient. Some literary gifts are for the gamers and others for the planners. Books and matches go perilously hand-in-hand; some matchbooks are perfect for the crude and others for the clever. I would be remiss if I didn't include two more novelties that didn't otherwise fit into my list. The first is a set of cocktail plates with Dorothy Parker quotes, perfect for writers with a Mrs. Dalloway side. The second is a generous show-stopper: a bound copy of the New York Times from the day your bibliophile came to be. What are your favorites?
Jenn Scheck-Kahn is a writer who founded Journal of the Month. Her prose has placed in contests hosted by the Atlantic Monthly and Glimmer Train, and appeared in a number of literary journals. She earned her MFA from Bennington College.