"We Want Work from the Indigenous Perspective." A Chat With Judy Wilson, Editor of Yellow Medicine Review
"We Want Work from the Indigenous Perspective." A Chat With Judy Wilson, Editor of Yellow Medicine Review


The richness of Indigenous literature is on full display in each issue of Yellow Medicine Review, a literary journal featuring work created by Indigenous writers. Editor Judy Wilson spoke with The Review Review on the journal's place in the literary landscape and the wide array of voices, traditions, and styles captured in the term Indigenous.
Interview by Chuck Augello
How would you describe Yellow Medicine Review to someone who has never read it before?
Yellow Medicine Review: A Journal of Indigenous Literature, Art & Thought is a highly regarded literary journal publishing Indigenous writers from around the world, filling a gap in the mainstream literary culture. Each issue is guest edited by a different Indigenous writer so that decisions regarding content are thusly informed. Over the course of the last decade, Yellow Medicine Review has provided a platform for the talents of hundreds of Native/Indigenous/NDN/First Peoples writers from dozens of countries. (Note: NDN stands for Indian.)
The journal seeks correspondence and submissions from the Indigenous perspective. What type of submissions are you seeking, and what do you consider the Indigenous perspective?
We publish fiction, flash fiction, poetry, creative non-fiction, the occasional scholarly essay, interviews, and short plays. We are open to all styles of writing, from work influenced by traditional Indigenous culture and oral storytelling to experimental pieces. Since each issue is guest edited by a different Indigenous writer, the preferences are likely to change with each editor.
When we say we want work from the Indigenous perspective, we're saying we want stories, poems, essays, etc. created by Indigenous peoples as opposed to stories, poems, or essays created about Indigenous peoples. We define Indigenous as the United Nations does: "Indigenous communities, peoples and nations are those which, having a historical continuity with pre-invasion and pre-colonial societies that developed on their territories, consider themselves distinct from other sectors of the societies now prevailing on those territories, or parts of them." (www.un.org/esa/socdev/unpfii/.../workshop_data_background.doc)
In your view, are there certain elements common to Indigenous literature?
I suppose the sure-fire element running common thread to everything published in Yellow Medicine Review is that the work is created by Indigenous people. Traits or themes would be hit and miss, in much the same way they would be if we put out a journal strictly for Southern writers. There are identifiable traits and themes of Southern literature, but that doesn't mean everything written by Southern writers will include these elements. As an editor who has read tons of Indigenous writings over the last decade, I admit to noticing some characteristics that feel particularly Indigenous such as beliefs about the world and about how people should act in the world; a keen environmental consciousness; an even keener bullshit detector; a Chaucerian humor; the influence of oral narratives, songs, and rhythms; a desire to retain original language and to use the English language in new and different ways; the influence also of ritual and ceremony stripped down to a realistic representation; and, of course, there's the loss—the historical oppression, genocide, and ongoing racism; but there's also perseverance and survival; there's the concept of sovereignty and all that it implies, and there's the irritation of cultural appropriation and PreteNDNs. There's a cutting honesty that stings one minute and makes you laugh the next. There's brilliance and edginess and newness.
The whole time I'm writing this, I'm remembering stories and poems we've published that cannot be defined in this way. So again, while I've noticed these elements in many of the works we've published, it's just as likely that we'll publish an issue that negates every trait I just identified.
The Spring 2016 issue was guest-edited by poet Trevino Brings Plenty. How do the guest editors work with the rest of the editorial staff? What are some of the advantages of bringing in a guest editor? How are guest editors selected?
The reach of Yellow Medicine Review grows with each guest editor that takes the reins because each one taps into his or her own network of writer connections. Sometimes we reach tribal affiliations that are regional in nature by using a particular guest editor. These are populations and writers we aren't aware of or who might not be aware of YMR. By using guest editors who have the inside edge on a particular region, we have been able to extend the journal's impact. For example, Joan Kane brought writers to us from Alaska and created a new audience of readers in Alaska in the process. Andrei Guruianu introduced us to writers from Romania. Keff Kenner edited a spotlight issue from the Tibet/Myanmar/Burma region. Jimmy Santiago Baca helped us tap writers from the Mexico/US border region.
I generally choose the guest editors with the idea of looking for folks who can bring us something new or add some new dimension. And I'm always, always, always striving to break down the stereotypes (all too prevalent and all too damaging) of Native Americans and Indigenous Peoples. This weighs heavily into my decision about choosing a guest editor. Sometimes they are recommended by another Indigenous writer or scholar. Some have an idea for an issue and ask for a chance to do one. If they are legit and the idea is good, I'll run with it. Sometimes I'm merely very interested in a rising star Indigenous writer who has a finger on the pulse of literary culture, and I'll ask them to share their talents with us for an issue.
Once they've agreed to the task, guest editors are free to design their own issues, starting with creating a Call for Submissions, which I post in all the standard places. They also control decisions about the content of their issue. Some guest editors depend more heavily on response to the Call for Submissions than others who depend heavily on their own network of writers or writers in their own region. Some guest editors are looking for a particular theme while others just want to showcase talent within their realm of connection or expertise. Guest editors receive the submissions via email, determine acceptances and rejections, compile the pieces in a single Word file in the order they want them to appear in the issue, and then pass the Word file to me. We take over at that point and perform all the grunt work of layout, editing, and proofing. Guest editors also write a "Note from the Guest Editor" essay to preface their issues. I work with them on choosing covers that are a good fit for their particular issue.
Much has been written lately about the lack of diversity in literary publications. How does Yellow Medicine Review fit into this conversation?
One of the reasons I started Yellow Medicine Review was to create a platform for literary work too often ignored and rejected by mainstream publishers and editors. I think publishers, editors, writers—people in general—tend to preference the universals of human experience, as if to insist we are all the same really. Focusing on our sameness of experience is somehow seen as a superior perspective, as if we'll all get along and be swell human beings as long as we put our differences aside and remember how much alike we really are. Here at YMR, we value and celebrate difference. We prefer it actually. We crave the richness of diversity. Within Indigenous populations, there is an amazing wealth of cultural diversity. We are interested in exploring all the ways of being indigenous in the world. We do this on an international scale and have published Indigenous writers from all over the world from places like Iran, Papua New Guinea, New Zealand, Finland, Cameroon, Tibet, Ireland, India, Romania, and of course from most of the states in the U.S. We concentrate on breaking stereotypes associated with Native/NDN/First Nation/Aboriginal/Indigenous peoples by highlighting uniqueness of experience and authentic representations. In addition, YMR actively seeks to publish the work of emerging writers alongside more established writers as yet another way to break down stereotypes, introducing the evolution of the Indigenous perspective.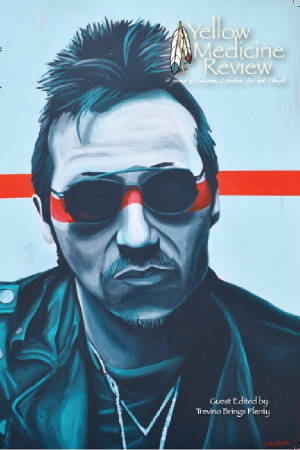 Within Indigenous populations, there is an amazing wealth of cultural diversity. We are interested in exploring all the ways of being indigenous in the world.
The Spring 2016 edition features stunning cover art by Bunky Echo-Hawk. Tell us about it.
The cover is a photo of an original portrait by Bunky Echo-Hawk done in acrylic on canvas. It's a portrait of John Trudell who passed away about six months ago. Trudell was a true inspiration, role model, and mentor to generations of Native Americans. He was a poet, singer/songwriter/recording artist, spoken word artist, teacher, and Native rights activist. His father was Santee Sioux and his mother was of Indigenous Mexican heritage. Many folks remember him as the spokesperson for the Native Tribes takeover of Alcatraz or his leadership role with the American Indian Movement. But it was his later work as a poet and spoken word artist that made him a legend to most striving, young Native writers.
Bunky Echo-Hawk is an amazing Indigenous artist. He did a cover for us for an early issue of YMR back in 2007—the issue guest edited by Stephen Graham Jones. He was just beginning to climb in his career during those days. He had been heavily influenced and mentored by John Trudell when he attended the Institute for American Indian Arts. Today Bunky is an inspiration and mentor to countless others himself. So considering Trevino's issue is themed "Letters to a Young Native Writer," Bunky's portrait of Trudell seemed the perfect fit. One Native American mentor creates a portrait of his Native American mentor—yeah, it's definitely the most meaningful cover we've ever produced for the journal.
One of my favorite pieces in the Spring 2016 issue is "Fifty Shades of Grey Poupon" by Tiffany Midge. It's a smart, funny, and surprising exploration of gender politics through the lens of the narrator's relationship with her lover John. When you first read that story, what about it made you think, "Yes, we need to publish this!"
Actually, I don't make any of the decisions regarding which pieces to include in an issue. When I tell a guest editor the issue is theirs, it's theirs. So that decision would have been Trevino's to make. I do love the piece you're talking about. Actually, Tiffany Midge's work often reflects the sort of Chaucerian humor I mentioned earlier. And I catch a hint of it in Trevino's aesthetic as well, so it didn't surprise me when I read that piece in his acceptance file. It's classic Midge, and I would have guessed that Trevino would have been taken by it.
What is Yellow Medicine Review's submission process?
We post and circulate a Call for Submissions on the YMR website as well as most of the standard call-for-submissions places. Each guest editor creates their own call so what we're looking for will change with each issue. We publish twice a year, once in late spring and once in late fall. We only accept submissions via email at editor@yellowmedicinereview.com. It's important to check the call status before submitting to be sure your work will arrive during an active reading period.
Are there certain types of submissions that you see too frequently? Are there submission types that you'd like to see more of?
We see a lot of submissions by PreteNDNs, and it's just an awkward mess in the long run. It's not like we run out and check blood quantum, but there are so many wannabe Native writers. It's laughable at times, mostly because they are often writing to the very stereotypes we're hell bent on breaking. We also get a lot of submissions by people who say, I've studied about such and such a tribe and think you might like this story based on a real story…Yeah, probably not.
You know what we love? We love work that opens a window onto a world we have yet to be privy to. We love a story that can break our heart wide open. We love work that breaks the mold. We love a blend of the traditional and the contemporary. We love the powwow dancer with the cool shades and the earrings in his traditional regalia. We love that we can imagine him moving seamlessly from that world to the streets of Minneapolis. We love work that challenges us. It might make us a little uncomfortable. We love that the loss, the genocide, was not complete. We love the indomitable spirit of Indigenous nations and we have so much to learn from them. We love pieces that teach us then and we love the global view. Mostly, and here's the important part, we love really good literature that just so happens to have been written by an Indigenous writer.
Tell us a little about yourself. How did you become Editor of the journal?
I'm a product of The Writing Center at The University of Southern Mississippi, mentored by the Barthelme brothers (Frederick & Steve) and Mary Robison. Since 2002, I've been a professor in the Creative Writing Program at Southwest Minnesota State University. I started Yellow Medicine Review as part of a Difficult Dialogues Initiative funded by a grant from the Ford Foundation. The journal received high praise from its first issue. It's very much a product of the Indigenous population. We just work behind the scenes to provide a stable and hopefully successful platform for some really interesting and talented voices.
Any upcoming news about the journal that you'd like to share?
Yellow Medicine Review will celebrate its 10th anniversary in 2017. We plan to publish a special anniversary issue of the best of YMR to include all the poems, stories, and essays that we have nominated for the Pushcart over the years. We proposed a celebratory, anniversary panel for the 2017 AWP Conference in Washington, D.C., but we won't know if that's a go until August.
Finally, do you have any particular advice to writers who plan on submitting to Yellow Medicine Review?
Always explain your tribal affiliation when submitting work. Never make up an Indigenous heritage for yourself. Send your best work. Take some risks. We love risk-takers.
Chuck Augello lives in New Jersey with his wife, dog, three cats, and several unnamed birds that inhabit the back yard. His work has appeared in Smokelong Quarterly, Juked, Word Riot, Hobart, Jelly Bucket, decomP, and other journals. He has a MFA from Queens University and is the fiction editor at Cease, Cows.