"We Want to Publish the Work...That Damn Near Destroyed You." A Chat with Merrill Sunderland of Phoebe
"We Want to Publish the Work...That Damn Near Destroyed You." A Chat with Merrill Sunderland of Phoebe
Interview with Merrill Sunderland—Editor of Phoebe


Established in 1971, Phoebe: Journal of Literature and Art has been supporting up-and-coming writers for many decades. Phoebe takes submissions for fiction, nonfiction and poetry throughout the year. The journal publishes a print copy in or around January and an online issue around May/June. Those interested can submit through the journal's online submission page. Phoebe only takes submissions via Submittable, but there's no fee for regular submissions, only for the contest.
Interview by Martin van Velsen
As a completely student run magazine, how does it all work, how is it run?
Phoebe is a branch of the MFA in Creative Writing Program at George Mason University, which makes Phoebe both unique and quite common. Unique in the sense that our editors typically serve only one year before graduating and handing over responsibilities to the assistant editor. Common in the sense that many other literary magazines operate the same way. At Phoebe, we like to say our aesthetic is that we have no aesthetic: we simply love good writing, however you define it and whatever that means to you.
Working closely with Mason's Department of Student Media, we produce two journals per year. The fall issue is our print-bound journal and is open to regular submissions, which are free through Submittable. The spring issue is solely online and the result of our annual contests judged by established authors. Winners receive money and publication in the online issue, and we often publish runners-up as well.
We take special care in selecting contest judges for the spring issue. Our judges are of the highest quality. Last year, our fiction judge was Benjamin Percy, our poetry judge was Eduardo Corral, and our nonfiction judge was Cheryl Strayed, all participants in the Fall for the Book Festival, which takes place at and around Mason's campus every fall. The Fall for the Book Festival is a great venue for us to approach possible judges, make connections, etc. Our judges this year are Ramona Ausubel for fiction, Roxane Gay for nonfiction, and Brian Teare for poetry. Another stellar crop, if I do say so myself.
As an endnote, I'd say that in this day and age, we think it's vital to have both an online and print presence. We've got a foot in each, which only helps our goal of getting quality literature to as many people that want it.
I know many of our readers would like to know a bit more about the editorial process. Can you please share what you've learned over the years as to how a journal is run?
Every member of the editorial staff is enrolled in Mason's MFA in Creative Writing. We're all readers of literary journals, as well as frequent submitters ourselves.
Mason's MFA is a 3 year program, so the traditional path for those interested in working at Phoebe is becoming a reader the first year (literary slave labor), an assistant editor the next, and a head editor the last year. Editorships come with a modest stipend.
The magazine has sets of two editors per genre, a head editor and an assistant editor. The head editor trains the assistant editor who will take over the following year. Each genre also has about 10 readers who read and vote on submissions. Once the votes are tallied, the genre editors have a meeting (food and drink is typically involved) and the standout pieces are reexamined and re-discussed until the group feels strongly about choosing a few pieces for publication.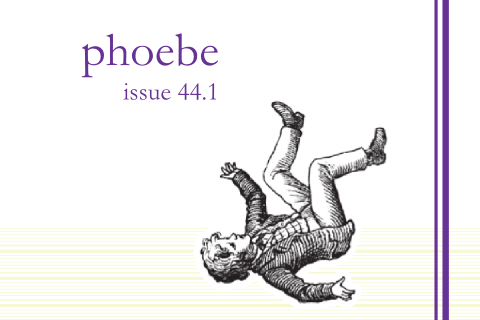 At Phoebe, we like to say our aesthetic is that we have no aesthetic: we simply love good writing, however you define it and whatever that means to you.
Phoebe has attracted many excellent and famous writers, especially as judges for the contest. Can you give us some examples of who has come by over the years?
Some of our more notable contributors include: Richard Bausch, Joshua Ferris, Cornelius Eady, Kim Addonizio, Katie Ford, Thomas Lux, Jacob M. Appel, Yusef Komunyakaa, C.K. Williams, Jacqueline Kolosov, Deborah Thompson, Matthew Vollmer, Ester Bloom, Karen An-hwei Lee, and many more excellent writers.
We always ask this question because it is fascinating what magazines look for. What would you say is your style?
Because Phoebe is a graduate-run lit journal, there's high turnover of editors, and so the aesthetic is forever changing. Or is it? What's in one year may not be in the next, but, hopefully, no matter who's in charge, good work won't get overlooked. Traditionally, Phoebe has been sort of poetry-heavy, and it still is, for sure--poetry receives more submissions than the other genres--but the prose side of Phoebe is growing, and we really want to cultivate that growth as well. Our fiction is generally pretty solid numbers-wise (nearly at the submission numbers for poetry) but nonfiction is a bit behind in that regard. We'd love to see some more nonfiction!
Regardless of genre, we want to publish the work you've been slaving over, the work that damn near destroyed you, the work you've been writing your whole life and will continue to write whether or not we happen to like it, the work you're nearly ashamed of because it's so damn good (nearly), the work that's funny or sad or poignant or triumphant and makes us feel better (or worse) for having read it, so long as it makes us feel something.
Martin van Velsen is a scientist, a sculptor, a researcher, a code monkey, and a writer--although not necessarily in that order. His mad science adventures have included: neurosurgery simulations, language technologies, artificial intelligence, robots and virtual humans. Martin lives in Pittsburgh in an old renovated Victorian toy factory and has trouble digging himself out of his ancient book collection every morning. The contact juggling is purely circumstantial.