We Look for a Combination of Craft and Magic of Vision and Meaning." A Chat With Pam Uschuk of Cutthroat Magazine
We Look for a Combination of Craft and Magic of Vision and Meaning." A Chat With Pam Uschuk of Cutthroat Magazine
Interview with Pam Uschuk—Editor of Cutthroat


Each literary journal must carve out a unique place in the world of writing. Each editor must bring their own creative offerings to the table of the journal. Cutthroat does this with ease and grace. They offer much to admire and so many feasts for writers to indulge upon.
Interview by Connie Post
How did The Cutthroat Magazine get started? What is your history with the magazine and have your goals changed for the journal over time?
My husband, William Pitt Root, and I started the journal in 2005. We both had experience editing small magazines and were fully aware of the difficulties involved. Because our own work had been published in hundred of small magazines, we wanted to give back to the world of letters. The name came from Colorado's endangered species trout. We chose the name because we believed that high quality, innovative and meaningful writing with a political edge was an endangered species in America. We began with an annual print journal, and then we expanded to a biannual print and online journal. Our mission was to publish fine poetry and short stories with an edge by a truly diverse group of writers. We had no ambition to publish only famous writers. We wanted to create a fine journal, in which we could publish unknown writers alongside very renowned writers. None of our editors are paid. We believed in promoting meaningful and high quality writing. Our mission has not changed. What has surprised us are the numbers of submissions we receive from outside the U.S. We are delighted to have published work from the British Isles, Ireland, Germany, France, New Zealand, Australia, Canada, the Canary Islands and more.
Tell me more about what your vision was for the magazine then and now?
We are committed to publishing the finest short fiction and poetry as well as creative nonfiction written in English in an elegant format. This year, we added creative nonfiction as a category in our literary contests, and we are hoping to receive high caliber essays, memoir pieces, etc. Now that we have an experienced excellent web design and design editor (Alexandra Cogs well), setting up the magazine and publishing it has been expedited. We also plan to continue to involve young writers as interns at Cutthroat. We are currently running a campaign to fund our next issue, THE BEST OF CUTTHROAT. Although it's hard to ask for money, we've run into considerable debt advertising and publishing the print edition. Funding is our biggest challenge. We have now exceeded the normal lifespan for a small magazine, and that makes us happy. The biggest decision for us now is whether to go to online only.
What other poets of national recognition are you interested in publishing?
Some of the imminent poets who have appeared in Cutthroat are Wendell Berry, Carolyn Forche, and Rita Dove, Sandra Cisneros, Joy Harjo, Linda Hogan, Patricia Smith, Richard Jackson, TR Hummer, Marilyn Nelson, Marvin Bell, Marilyn Kallet, Mark Childress, Naomi Shihab Nye, Luis Alberto Urrea, Martin Espada, Dorianne Laux, Sherwin Bitsui, Rebecca Seiferle, Clarence Major, Alison Hawthorne Deming, Alfred Corn, Michael Martone, Bobbi Ann Mason, Pam Houston and many more.
On a related note, what emerging poets have you recently published that you would like to mention and what is it about their work turned your head?
In each issue, we feature a Discovery Poet—these have included Alice Anderson, Michael Wasson, Howie Faerstein, Stephanie Dugger, Julia Bowsma, Jeff Alfier, Roger Bonair-Agard. We've published a plethora of emerging writers like Melissa Studdard, Lucyna Prostko, Kathy Conde, Conor Madigan, Linda Weaselhead, Cristina Castro, River Allen, Casey Haynes, Elizabeth Evans, LaWanda Walters, Terri Kirby Erickson, Bill Wetzel, Simmons Bunting, Jodi Barnes, Willie James King, Bill Yake and more.
Each issue publishes book reviews, which I think adds a nice context to each issue. How do you decide what you will review and who will write the review? How do you select your reviewers and how do you decide what books you want to review.
We review books mainly from small presses. Unfortunately, although we receive volumes of poetry and short story collections as well as novels and memoirs, we are only able to review a fraction of what comes in. The best way to have your book reviewed is to have the press send us a review copy. We never review books sent in pdfs or in an email or by those authors who instruct us to read their books online. Our editors most often review books that catch their interest. We also publish book reviews submitted to us. We are always open to book reviews by people we don't know as long as they are well written and stay within our parameters of one page or less.
You have an awards issue every year. Can you tell me more about the Joy Harjo Poetry Prize, its origins and also about the Rick DeMarinis Fiction Prize? How many entries do you usually receive for these contests?
Bill and I have long known and admired the writings of Joy Harjo and Rick DeMarinis. We consider Joy to be one of the most innovative, interesting, and greatest poets in the nation. We are convinced that her work will last well beyond any of us. Even though Rick DeMarinis has won many prizes and his short stories have been published in great places like The Atlantic, we feel he is underappreciated as one of our finest short story writers. We named our prizes after these two writers because we wanted to honor them.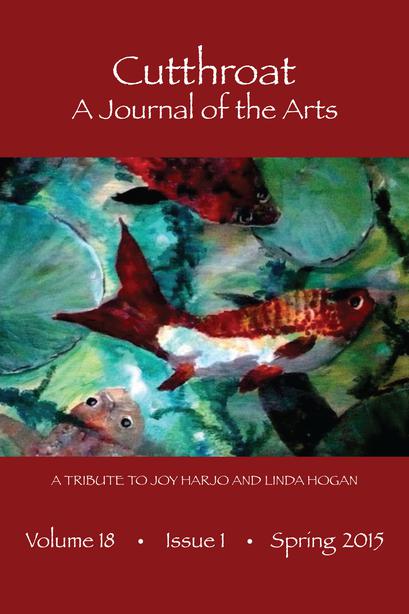 The most difficult part of being an editor is rejecting work.
There is a new prize also being offered on the horizon, the Barry Lopez Creative Nonfiction Prize, can you tell us more about this new prize and why you decided to establish this prize?
We established this prize because of popular demand. Over the years, we were repeatedly asked why we didn't publish creative nonfiction. Consequently, we established this prize and named it after one of the finest writers of creative nonfiction in our country. Barry Lopez's Arctic Dreams, Of Wolves and Men are classics of environmental and philosophical writing.
Your response time is four to six months. How difficult is it to stay within that time frame?
Sometimes, it is difficult. We've added assistant fiction editors to help the fiction editors deal with the volumes of short stories we receive (about 500 per issue). We need to name a couple more assistant poetry editors to help deal with the sheer volume of submissions we receive. For any one issue, we receive around a thousand poetry submissions.
The cover art on your journals are full of brilliant color and evocative art. How much time is spent and how do you select the cover art?
We are always on the lookout for evocative images for our covers. All the art so far has been donated. Our main cover artists are established artists Lynn Watt, Albert Kogel, Jim Davis, Ron Fundingsland, Lucinda Luvaas and Bruce McGrew. Inside the online edition, we've also featured the fine art work of Fox Joy McGrew, Dan Vera, Judi Stahl, Val Uschuk, LaWanda Walters and others.
How do you build your readership?
We've set up a Facebook page and a group page for Cutthroat, A Journal of the Arts. I also put up periodic announcements for it on my FB Profile Page. We've advertised in Poets & Writers, AWP Chronicle, The Writer, New Pages, winningwriters, etc. to build readership. Our online journal is fully downloadable. We also use student interns, and they help with word-of-mouth to young writers. We've been lucky to have interns from the University of Tennessee, Knoxville's MFA Program, the University of Arizona's MFA Program, Fort Lewis College and other institutions. Bill and I take copies of Cutthroat to our readings and residencies around the country, in Mexico and in Europe. We've placed copies in libraries all over the U.S. and in Europe. We seem to be a fairly popular literary magazine, and we are grateful for that.
Cutthroat offers an on line mentorship program. How long has this program been going? It has quite an admirable staff. What have been the biggest benefits to writers as a result of this program?
This program is unique in that we pay writers nearly all the fee a student pays to work with him/her. Students pay no hidden costs. It's all up front, and, since there are only two fees, we keep it simple.
For a month-long mentorship ($1000), writers meet twice weekly with their students and give in-depth input, suggestions, criticisms and, in some cases, writing prompts. Students interact and discuss their work with their writers via email or SKYPE. In the case a full ms. evaluation ($2000), writers meet with their mentors twice a week for 6 full weeks. The writer reads, critiques and helps the mentor revise a ms. Of up to 200 pages. The critiques are always in-depth. The writer and mentor develop a close association. This program in invaluable. We are flexible and can arrange for payments. We have had an overwhelmingly positive response from the participants in this program. Here are student comments:
"I learned more in the past two weeks in this mentorship than in my entire MFA program at NYU!" LR
"(Pam's) a blessing, a natural teacher... so positive and encouraging. I'm not an academic (at least writing poetry), more a street-taught word sculptor, so your detailed feedback has been an inspiration. "PA
"I am grateful for your help with this book of mine. You (Donley Watt) not only edited what I had but taught me how to improve it and gave me tools to go ahead with on my own. I've so enjoyed working with you and I'm happy that you liked it, too." H.V.
" I cannot express enough the fantastic, constructive time I spent in my mentorship with Marilyn Kallet. Not only practical and helpful, she has a generosity of spirit that was significant in aiding my work. I absolutely recommend this mentorship to others, and my highest praise goes out to the quality of work and time Dr Kallet put into my manuscript. Many, many thanks from a grateful writer."KBB
"I was very lucky to have done a mentorship in poetry with William Root. He is wonderful specific and detailed in his comments and suggestions." ACS
I notice you have quite a list of staff members that support Cutthroat: a fiction editor, an on line fiction editor, a poetry editor, a design editor and more. How do you meet and collaborate on upcoming issues?
Because our editors live in various parts of the country, we meet via email or by phone. Each year we all try to get together over a big meal. Fortunately, we are lucky to have cooperative not contentious editors on our staff. We work together, solve problems together. As Editor-In-Chief, I field all questions, suggestions and such and send them out to the other editors for discussion. I always take the suggestions of editors and staff seriously.
Do you find it overwhelming to read large quantities of poetry and fiction?
Of course, we can get overwhelmed. Anyone can. We do have quite a few readers for our contests, and each one is a published writer with a book, two or several out. When we truly are overwhelmed, I call on friends like Richard Jackson, Marilyn Kallet, TR Hummer, etc. to help out with the preliminary reading. It's worked so far.
What do you find most rewarding about being an editor? The most difficult?
The most rewarding is publishing extraordinary work by someone unheard of, discovering great new writers, publishing wonderful work by established writers and calling prize-winners to announce their prizes. I've heard some pretty moving stories from people, like BJ Buckley, who won our first Joy Harjo Poetry Prize. She said the prize money would go to getting tires for and work done on her car that had 200,000 miles on it, so she could safely drive to a Poets-In-Schools Residency.
The most difficult part of being an editor is rejecting work. Sometimes, writers take great offense to being rejected. This has been true of some "famous" writers whose work we had to turn down because it wasn't their best work. Sometimes, people stop talking to an editor altogether after their work is turned down.
Does Cutthroat go to AWP and other writer's conferences every year? How has this benefited the magazine?
Each year since our inception, we have attended the AWP Conference and had either a booth or a table at AWP's immense Book Fair. I find that when we sponsor an event or a panel, Cutthroat gets a lot of public exposure. Last year, we hosted a tribute to Joy Harjo and Linda Hogan that was a great success. Luis Alberto Urrea helped me moderate this. Linda read her work, and Joy read/sang/performed hers. Everyone was in tears and dancing at the same time. Our audience was very large and very appreciative. Our special tribute issue to Joy Harjo and Linda Hogan, Cutthroat 18, sold out at our booth. For the upcoming AWP Conference in L.A., we are scheduling an off-site reading of the Best at Beyond Baroque.
Describe in a few words the main standouts you look for in a poem or fiction piece.
We look for a combination of craft and magic of vision and meaning. We are not interested in clever pieces or pieces that are well-crafted but without "soul," without a depth of insight and wisdom, meaning, something that moves us. The converse is also true. We don't publish pieces that simply move us—they must have a high level of craft. The music/rhythm, line breaks, imagery, and the intelligence of the poem must all be working.
What are your hopes for Cutthroat Magazine in the future?
We are in the process of discussing the pros and cons of an exclusively online journal. Since we are an independent, it's difficult to sustain the costs of a print journal. Advertising costs, alone, are astronomical, especially advertising in journals like AWP Chronicle and Poets & Writers. We also want to diversify and publish creative nonfiction as well as fiction. We hope to find a fine and dedicated creative nonfiction editor and staff to allow that.
Connie Post served as the first Poet Laureate of Livermore, California from 2005 - 2009. Her work has appeared in The Big Muddy, Calyx, Cold Mountain Review, Crab Creek Review, Comstock Review, The Pedestal Magazine, Slipstream, Spoon River Poetry Review and The Valparaiso Poetry Review She was the winner of the Cover Prize for the Spring 2009 issue of The Dirty Napkin and the winner of the 2009 Caesura Poetry Awards. Her work has received praise from Al Young, Ursula LeGuin and Ellen Bass. She has been short listed for the Muriel Craft Bailey awards (Comstock Review) Lois Cranston Memorial Awards (Calyx), Blood Root Literary Magazine, the Jack Kerouac Poetry Prize and the Gary Gildner Award (I 70 Review). Her Chapbook "And When the Sun Drops (Finishing Line Press) won the 2012 Aurorean Editor's Choice Award. Her first full length book "Floodwater" was released by Glass Lyre Press in 2014 and won the 2014 Lyrebird award.