"We Certainly Strive to Keep it Weird."
"We Certainly Strive to Keep it Weird."


On the website of Cease, Cows, editor Heather Nelson offers this bio: h.l. nelson is Founding Editor/Executive Director of Cease, Cows and a former sidewalk mannequin. (Yes, that happened.) Pub credits: PANK, Hobart, Connotation Press, Red Fez, Bartleby Snopes, blah blah blah. She is working on an anthology, which includes stories by Aimee Bender, Roxane Gay, xTx, and other fierce women writers. h. l.'s MFA is currently kicking her ass.
Interview by Alex Quintanilla
How and why was Cease, Cows founded? Had you ever undertaken something of that scale before?
One day in March of 2013, after reading several great and not so great online literary magazines, I decided to start my own. I wanted to see more magical realism, among other weird genres, so I felt there was a need in me that wasn't being filled. Much like many things I do in life, I flew by the seat of my pants regarding the setup, name, and soliciting writers to send pieces. I had been editing for another online magazine for almost a year by that point, but I'd never undertaken anything of this scope before. It's been the best ever.
Did you know beforehand that Cease, Cows would be an online journal? I've noticed that many, if not all, of the pieces published have some sort of media accompanying the work. What are your thoughts on the print versus online debate?
I did know beforehand that CC would be an online magazine, because I wanted to prove that online magazines can and should publish exceptional work. Just because something is printed on paper doesn't mean it's any good. I've read a lot of crappy printed fiction. There are, of course, monetary and ecological considerations, too. Overall, I'm very happy that the general consensus about print vs. online is changing. When a journal like Ploughshares gets a smaller amount of readership than an online one like Monkeybicycle, you know something's up.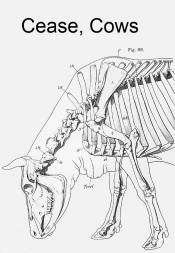 Freak us the fuck out, in the best possible way. Please.
In your submissions guidelines, you state that you only accept "Rare Flash" and "Well-Done Prose Poetry." Can you elaborate on the choice to focus on these two forms? And what exactly is "Rare Flash"?
My staff and I very much enjoy flash fiction and prose poetry, so it seemed an easy leap to just focus on these. The "Rare" and "Well-Done" are kitschy category titles, since we have a cow theme. You know, steak preparation and all. Clearly, we aren't vegetarians (actually, our Poetry Reader is! Poor girl). We don't take ourselves seriously, and I think that's part of our appeal. I wish I could make a cow pun right now, but I've not had enough coffee.
Ah, very clever! Now, I notice you're based in Austin. Are you committed to "keeping Austin weird?" What has been your relationship with the local community so far? On a similar note, who is your intended audience?
Our intended audience is an audience that enjoys weirder fiction. Being based in Austin, we certainly strive to keep it weird. But, we would strive to do the same were we based in, say, Wichita. "Weird" is a state of mind, after all.
How do you see Cease, Cows growing in the future? What submissions would you like to see more of?
It's possible we may switch to an issue-based format. That's very appealing. There's been talk buzzing around about monetization. I don't know — I rather hate money, personally. As far as submissions, we'd love to see more straight-up magical realism and just plain bizarre pieces. Freak us the fuck out, in the best possible way. Please.
Born and raised in Texas, Alexandra Quintanilla earned a B.A. from Rice University and is currently teaching English in rural Western Spain.