"We are Fierce in Our Faith in the Printed Page." A Chat With Michael Sickler, Editor of Comstock Review
"We are Fierce in Our Faith in the Printed Page." A Chat With Michael Sickler, Editor of Comstock Review


Coming up on its thirtieth anniversary, The Comstock Review has much to celebrate. This journal exemplifies how a poetry community begins with a soft wind and accumulates to a literary thunder. This journal has a remarkable reputation for reasons you will discover in this interview. Each person involved in The Comstock Review has made an indelible mark on the canvas of this exceptional publication.
Note on these answers, from Michael Sickler: This is a collaborative effort between: Kathleen Bryce Niles-Overton, Betsy Anderson, and myself. The historical questions were forwarded to me by Kathleen, others were a collaboration between Betsy and myself.
Interview by Connie Post
The Comstock Review is celebrating its thirtieth anniversary soon. That is quite an accomplishment! Amidst the rise and fall of thousands of journals, how do you think your journal has not just survived but thrived?
It has a lot to do with our personal touch. We comment on work during the open reading period, when possible. We work closely with our poets to be sure their work is presented as professionally as possible. We encourage. We pester. We make it clear that we are a community dedicated to helping poets and poetry.
Can you tell me about the founders of The Comstock Review and how it has evolved since then? How has the editing changed? Who are the current editors?
The editing team has changed a lot in recent years, as the Founders pass on responsibilities. After Peggy Flanders stepped down as Managing Editor (but not as an active worker otherwise), John Bellinger took the helm. Then Georgia Popoff, and finally the present co-managing editors, Michael Sickler and Betsy Anderson.
In that time the team has changed, as some went on to other phases of their lives. And in that time, Michael, who also is the Art Editor, has sought to make the cover art a statement in itself and Betsy has introduced more computer based time-savers.
We have editors who have moved far away who still read for us, thanks to scanning and pdfs. All the while, our basic aim has remained the same: Work hard for the poets.
I read that Comstock started as a workshop in the living room of Jenny MacPherson. It started as a writer's group. How does its beginnings distinguish itself from other journals?
Kathleen Bryce Niles-Overton offered this: We began in late 1985 as a ragtag group of would be poets in the living room of Jennifer MacPherson on Comstock Avenue in Syracuse, NY. The intent was to Xerox our poems, pass them about, read them aloud, brace ourselves for criticism, and pretend to like it. Jen would provide libations, and we would get to the task at hand.
It was determined that we would create and publish a local journal. Karen Fausnaugh became the first editor. One of the group suggested the adorablename of Poetpourri for the journal—and it was born. After a couple of issues, the editor duties fell to me. It was then we went national. Our name sounded insipid, and we knew we had to make a change. We were, of course, the Comstock Writer's Group, so we decided on The Comstock Review, named for the street Jenny lived on. We all insisted that it be absolutely credible to and for all poets. We published only the best writing, kept it to the highest standards. All work was read anonymously. No reader knew who the poet was until the piece was accepted. We all had other full-time jobs. So, in order to survive, I proposed to the City School District of Syracuse that we create an opportunity for children to see their work in print and Poetpourri Jr. was created. Now we had two journals.
Some of the earliest editors were Kathleen Bryce Niles-Overton, Jenny MacPherson, Peggy Sperber Flanders, Michael Morgan, and Yvonne Clifton, and others joined a bit later.
In the current literary climate, the printed journal seems to be fading due to printing costs and inventory and several other economic hurdles. How has Comstock been able to keep the printed journal going?
It isn't easy. We are fierce in our faith in the printed page. We are all volunteers, so our expenses are advertising, set up, printing, and mailing.That last item keeps going up. We have some faithful subscribers, and they are the heart of the enterprise. They plunk down their money when and where they think it will do the most good, and it is not dependent on their work being in the issue. Each year, we puzzle how best to keep on going. All ideas are appreciated.
Your Annual contest, the Muriel Craft Bailey Memorial Award is a major funding source for the magazine and is a well regarded contest. Can you tell us more about Muriel Craft Bailey? What poets have won awards in this contest that you would like to highlight or talk about? What volume of submissions do you receive for this contest?
It is interesting to note that both the Muriel Craft Bailey Prize and our chapbook contest, the Jessie Bryce Niles Chapbook Prize, are named to commemorate a mother and a grandmother, respectively, very tough and supportive women who overcame a lot in their lives.
We receive anywhere from 500 or slightly fewer entrants. In the MCB they can submit up to five poems of approximately forty lines. The JBN chapbook can be thirty to thirty-five poems. Needless to say, this is a lot of reading. Each contest has to pass the judging of four editors to move on. In our last two contests—Stephen Lautermilch won the MCB poem award. An added caveat: Stephen is a wonderful photographer and his photography will soon grace our cover. This year's Muriel Craft Bailey final judge is Marge Piercy.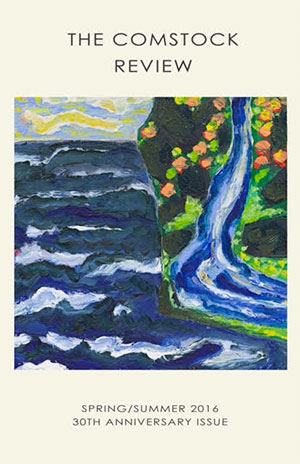 We make it clear that we are a community dedicated to helping poets and poetry.
There is also an annual chapbook contest, The Jessie Bryce Niles Chapbook award. Can you tell me more about Jessie Bryce Niles and her legacy for this contest? What about their work was remarkable?
Kathleen is the granddaughter of Jessie. Miss Niles was not a poet but an incredibly strong woman. She was a woman of color from Jamaica and a single mother who at the end of last century into the middle years had to overcome prejudice, raise a family, and establish herself in the field of education. Kathleen is understandably proud to have this contest in her name.
In the back of each chapbook contest year there is a bio of Jessie and notes on her legacy. Every other year we have the JBN contest; every other year we run the CR chapbook contest. Each year, the contest rises to new heights, and we are pleased to announce we are now publishing color covers for the winner.
Your website includes The Poet's Handbook. It is a wonderful resource for many writers ,and I have referenced it many times when giving workshops. Who decided to write the handbook, and how long has it been part of The Comstock Review's website? Do you get comments and feed back about the handbook? Is it an ever-evolving work, or has it stayed the same for awhile?
Kathleen wrote 98 percent of the handbook and it has not changed in twenty years. (It's next on our to-do list.) Initially, she said she was looking for another revenue source to keep the treasury viable. Kathleen thought of publishing it as a pamphlet. As time went on, she realized it could have an impact on both novices and experienced writers. Poets, she felt, have few clues as to the mindset of editors and publishers. It became important, we all felt, to teach them what kinds of things are sought in a submission. It was to be one more tool for the emerging poet. Any money we made was far outweighed by our primary goal—make poets, and poetry seen and heard, and pay poets respect for their gifts.
There are several members on the Comstock editorial team. How does the team collaborate and work together? How often do you meet? How do you reach a consensus on the production of the magazine?
This is the best question yet. We work as a family might. We come from widely different traditions and poetic tastes. We have learned to respect each others' tastes and differences, even when reading submissions. Sometimes one editor knows he/she is not the best judge of the poetry at hand, and refersit to another who is more comfortable with consideration, when it comes to work. (Sickler is the most difficult—you make it by him—chances are you're in! Ha.)
The resulting array of acceptances is an interesting weave. The reader may find in any issue: free verse, form, prose poetry, experimental poetry, all kinds. They can find nature, death, birth, and everything in between when they receive their copy of the CR. And because we read blind for the most part, first timers will find themselves in print next to veterans.
What is a typical press run for each issue? How many subscribers do you have? Have you seen the numbers vary over the years and if so to what degree?
This has varied widely over the years. When the economy collapsed, so did a lot of support for journals everywhere. Our numbers are on the rise again, and with our best effort we have sold out the last two issues!
What would you say is the primary reason that The Comstock Review has been so successful over the years?
We support craft. Poets who apply here know we give their work a personal touch. We are not an auto-reply business. We encourage actively. We appreciate how hard it can be to write well, and push, push for it. We respect their work, and in turn the poets remember!
There are those readers who just love poetry. There is something in our choices for most tastes. We are multi-faceted, and we never print the same thing again, and again. Not to mention the fabulous artwork on our covers, provided by many well-known established contemporary artists.
What hopes do you have for the future of The Comstock Review?
Oh let me count the ways. We have to be more in the current century. This year, we are trying on-line submission for our poetry contest, to broaden our reach and to be more available. We have an active Facebook page and website. We have other ideas in the oven, but it all depends on handy volunteers and the time they have to give. Its odd, but we continue to think more, not less.
Can you tell me about the thirtieth anniversary issue coming up and what you hope this issue will represent and achieve?
As has been stated earlier, it's quite a feat to publish a review for thirty years without outside support. The other day I came across some of the early Comstock Reviews, and I made a side by side comparison, I was stunned by the quality we've achieved since the review started in 1985. We had no images on the cover back then, and when we did, they weren't in color. On the inside, I've noticed better and better authors are sending us work.
My goal has always been to put forth the best quality product with the highest level of professionalism possible, inside and out. When I became the co-managing editor, I also took over as art-editor. I taught in the university at Syracuse for 40 years and made numerous art friends and contacts. I was able to bring that expertise on board to the benefit of the Review. I think we look pretty classy and sound classy. This upcoming anniversary issue has done the same thing by inviting a number of established poets to share our joy, and the result will be one boffo issue!
Is there anything more about The Comstock Review you want the readers of this interview to know about the journal?
Our mission has always been and will continue to be to be a poet-friendly journal of all styles and concepts. We nurture our poets, new and established. Like any self-supporting journal, to continue in our journey together we need subscribers.
Connie Post served as the first Poet Laureate of Livermore, California from 2005 - 2009. Her work has appeared in The Big Muddy, Calyx, Cold Mountain Review, Crab Creek Review, Comstock Review, The Pedestal Magazine, Slipstream, Spoon River Poetry Review and The Valparaiso Poetry Review . Her poetry awards include the Caesura Poetry Award and Second Prize in the Jack Kerouac Poetry Contest. Her poetry has received praise from Al Young, Ursula LeGuin and Ellen Bass. She has been short-listed for the Muriel Craft Bailey awards (Comstock Review) Lois Cranston Memorial Awards (Calyx), Blood Root Literary Magazine, and the Gary Gildner Award (I 70 Review). Her Chapbook "And When the Sun Drops (Finishing Line Press) won the 2012 Aurorean Editor's Choice Award. Her first full length book "Floodwater" was released by Glass Lyre Press in 2014 and won the 2014 Lyrebird award.