"I Was Looking For a Story That Would Open Its Mouth In My Head." A Chat With Scott Garson of Wigleaf
"I Was Looking For a Story That Would Open Its Mouth In My Head." A Chat With Scott Garson of Wigleaf
Interview with Scott Garson—Editor of Wigleaf


Scott Garson is the founding editor of Wigleaf. His first book, American Gymnopédies, is a collection of place-based microfictions. His most recent book—Is That You, John Wayne?—is a collection of shorts and longer stories. He lives in central Missouri with his wife and two kids. @Wigleaf
Interview by Michael Fischer
Many would agree that Wigleaf, along with SmokeLong Quarterly, is synonymous with the rise of online flash fiction. According to Duotrope, your acceptance rate is 1.26 percent! Can you discuss Wigleaf's origins and how it has become one of the most read and competitive flash pubs in the game?
Your question takes me back to 2008, when we started, and can I just say how thrilled the '08 me would have been to know that Wigleaf would one day be mentioned alongside SmokeLong. At that time, there were far fewer online venues for fiction—flash or otherwise. Partly this was due to technology: WordPress and other content management systems were less sophisticated than they are now, so if you wanted to publish a decent-looking journal you had to code it yourself. Culture was another big factor. Everybody and their mother hadn't gotten on the internet yet. The idea of a literary magazine online—this struck a lot of people as strange. Looking back, I'd say that Wigleaf and others—SmokeLong, Diagram, Hobart, Juked, FRiGG, and the late great elimae—took advantage of this strangeness by rethinking what a literary magazine could be—in terms of format and pub schedule, certainly, but also in terms of mission. Do you notice how not a single one of these mags took "Review" for its name? My thinking: "review" has connections with academic "peer review"—the idea that submissions will be judged and approved on the basis of their meeting disciplinary standards. I can't speak for everybody, but at Wigleaf, we didn't care about conferring estimations of quality. And we certainly weren't interested in credentialing writers. We were after—and this relates to our doing only very short fiction—we were after immediacy, I'd say.
I was looking for a story that would open its mouth in my head. I was looking for actual amazement.
I guess I haven't spoken to the part of your Q that relates to our low acceptance rate. It's a tough one. I'll confess that I'm continually thankful that so many writers are sending us their most exciting stuff—even though we don't pay, and even though our name is toppable in the prestige game. Maybe it's because they need to find an editor whose aesthetic is less confining. Maybe it's because they want readers. (We're online… Readers—this can be arranged.)
Do you think the internet's role in reshaping ideas about what a lit journal can be has helped create or cultivate new flash aesthetics? Since the late 2000s, I've noticed that flash has become more experimental, varied, and hybrid than the flash I read in older anthologies from the 90s.
Well… yes?
I'm going with yes.
Recently, I reread Flash Fiction, the seminal '92 anthology edited by James Thomas, Denise Thomas, and Tom Hazuka. From a present-day standpoint, it's hard to get your head around how groundbreaking that book was. As James Thomas notes in his intro, stories of that length were only just starting to appear in journals. So basically nobody was used to them, and it was probably the case that lots of readers had never read anything that short. Rereading, I thought it made sense that Thomas and the others would give readers grounding by choosing mostly stories that tipped toward the max of their range (750 words)—stories in which writers had more room to do the stuff readers were used to, like offering dialogue and developing character.
What makes less sense to me is how, in the aftermath of Flash Fiction, many publications seemed to cling to that model: stories between 500 and 750 words, often realist. With many of the online mags now (and elimae was hugely influential in this), there's less expectation in regard to length; writers and readers are having tons of fun in the under-250-word range. And maybe more important, there's no dominant -ism. Sometimes there's no -ism at all. Which is great. You're never sure what a writer might do—in terms of voice and mode and shape and sentence. This makes reading, as an activity with a putative goal, kind of strange and shaky.
Interesting that you mention dialogue in longer flash—flash that uses its full allotment of words (ha!)—in the Thomas, Thomas, and Hazuka anthology. I went through the latest Wigleaf Top 50 and noticed the number of stories that either use little dialogue or none at all. I can see why a writer would put all her eggs in the narrative voice basket if she's working with, like, 350 words. But I'm continually fascinated by the way "voice" has changed over the last ten years. There's a pitch that mirrors the way people talk online. Speaking of the Wigleaf Top 50, how does the selection process work? When do you get the ball rolling for the next installment? I think it's a great concept. Most writers who've been around a while already know about it, but many of our readers are just starting out.
Yeah—often 'voice' used to be thought of in terms of culture, I think. Like voice was a cultural referent. Now—especially on the internet—it's easy to think of voice in fiction more as you might think of it in poetry: as encoding an organizing disposition or intelligence. It's more tricky, for sure.
RE: the Top 50: one of my favorite subjects! Marcelle Heath is our Series Editor. She's just put together the team that will ultimately be giving us the Wigleaf Top 50 (Very) Short Fictions of 2017. How it works: Marcelle and the associate editors and readers work through stories that fall within our criteria (under 1000 words and published with unique urls in American mags or mags of explicit international billing). They then come together on a longlist of 200 stories, which is sent to a selecting editor who chooses the Top 50.
The Wigleaf Top 50 of 2016, also helmed by Marcelle Heath, is coming out soon. Want to know who our selecting editor is for that one? Here's the announcement: Matthew Salesses.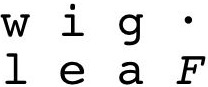 I'm continually thankful that so many writers are sending us their most exciting stuff...
Awesome! Can you elaborate more on your love for the Top 50? I imagine it's a nice break for the staff, to go from traditional editing to curating already published work.
In the old days, yes, a nice break. How things are now: the Top 50 staff and Wigleaf editorial are formally divided. Which means that I'm in the same position as everybody else now: I get to anticipate the Top 50 and indulge in it when the work is through. (Sometimes I'll discover people there and end up getting a chance to publish them later in Wigleaf proper: Meredith Alling, Maddy Raskulinesz, and Katie Cortese are some recent examples.)
Can you discuss the postcard pieces contributors are invited to write? Do you consider these flash too? Have any writers published their postcards as standalone works in a book?
I wish I still had the original html mock-up I did for Wigleaf, about six months before we launched. At that time, I had all these ideas for things we might run besides fiction; the postcards were the only one of those ideas that survived. The idea for them was kind of utilitarian, actually. I dislike typical windbaggy writer bios and was planning on doing what I've ultimately done: not asking writers for their bios, just composing two-line versions myself (I was amused to see writer Kara Vernor commenting on this peculiarity on Twitter not long ago). Anyway, I saw 'Dear Wigleaf' as a concession to contributors: no, we're not going to give you 300 words to tell us every place you've ever published and just how great you are, but we will let you write us a postcard. And in that postcard you can say whatever the hell you want. 'Dear Wigleaf,' in other words, was a happy accident. I had no foresight as to how awesome these would turn out to be (and how much they would help us make a name for ourselves). Do I consider them flash? Prose art, I'd say. Necessarily short form. Writers have published their postcards later as part of collections, sometimes changing the name of the addressee. I love to see that. As more than a few readers have let us know, the postcards are no secondary pleasure.
I sense a kind of utilitarianism in your site's design, too. Minimalistic, no frills. It's been the same or close to the same forever, right? I can't imagine you ever changing it. It's such an integral part of your presentation.
If I'd been a real html dude, I could have coded the site in any number of ways so as to make it look good. Not being a real html dude, I had to go with the thing I could do well, and this was it. I won't pretend that I love everything about the site. In particular, if I could rewind, I'd probably design it so that when individual stories were shared via link, they'd pull up the site with them instead of being 'orphaned,' as it's called. But there's lots of stuff I do really like about Wigleaf's design. I like the navigation. I don't imagine anyone's going to get lost on Wigleaf, or not find fairly quickly what it is that they might be looking for—the archive, the Top 50, past Top 50s, etc.
Will we ever opt for a redesign? Can't promise we won't, but can't foresee it, either.
One small change I remember making: that figure on the right-hand side, above the column of stories? It used to be source-colored: I took an orange from a photograph of a sunset over Monterey Bay.
When did you become affiliated with the University of Missouri? Has the affiliation changed Wigleaf in any way?
The affiliation is just circumstantial. I was teaching at Santa Clara University when my wife was in grad school, and when she got out we found jobs together at UM Columbia. That was seven years ago, I guess. Wigleaf came along with us in the way that a kid does when a parent gets a job in a new town. Wigleaf had to get used to a new school, a new locker, had to hope that it didn't get pushed around in the hallways by the Missouri Review. (Actually, MR has been cool; I did a Soundbooth interview with them a couple of years ago.)
I do think that the issue of formal affiliation is an interesting one. Take an indie mag like Hobart. They've scored in Best American Short Stories, Best American Essays, and others. You've got to imagine that with that kind of recognition, the journal would be of interest to universities and other institutions. How that might change things—again, interesting question.
Hobart is a great example. I didn't even know you were affiliated with UM until I began preparing for this interview. I don't think it matters as much anymore. I've seen Wigleaf credited in several well-regarded books. That's what's most important to me. Okay, I've always wanted to ask you this—at the risk of sounding like an idiot: what's a "Wigleaf?" What's the story behind the journal's name?
Did you ever see the SNL commercial parody for the conservative investment firm that didn't get on the internet quickly enough and so was stuck asking people to visit it on the only domain it could eventually secure, www.clownpenis.fart? That bit aired in 1999. Wigleaf didn't launch until early '08, so you can imagine how much worse things were. And I really wanted a dot-com! So I got in the habit of trying out sounds in my head, just nonsense constructions. At first, I'd usually be like, That doesn't sound like anything—definitely not our mag. But once I got used to 'Wigleaf,' I could imagine other people getting used to it, too. I could imagine it sounding fairly natural.
It does sound natural. What do you look for in an ideal submission? How can writers stand out?
That's got to be the hardest question for an editor to deal with in an honest way. Because honestly? I don't know! I could describe our aesthetic as I see it. But then nobody should be working with a particular mag's aesthetic in mind.
Maybe I could throw out a possible scenario: you wrote a story a little while back, and you mistrust it because it came so quickly and because you don't know any stories that work exactly like it does. Maybe it sucks. Still, that's a story you might want to try Wigleaf with.
Where do you see Wigleaf in 2028?
Still publishing. Online. (I say this just for my wife, Becky, who could use some assurances as to the earth not having burned up by then and the internet therefore still existing.)
Really this Q is harder for me than it should be—maybe because I'm telling myself to adopt a more ambitious mindset. Not that we're not ambitious. Just that I see Wigleaf as being very loose, very open and responsive to the moment. In other words, who knows?



Michael Fischer's writing has appeared in Phoebe, Natural Bridge, Beloit Fiction Journal, Green Mountains Review, The Rumpus, and Wigleaf, among others. He's currently working on a short story collection and an essay collection on mental health @fischermichael0