"We Do Our Best to be a Melting Pot." A Chat With Scott Waldyn, Editor of Literary Orphans
"We Do Our Best to be a Melting Pot." A Chat With Scott Waldyn, Editor of Literary Orphans

In the bazaar of creative thought Literary Orphans is a serious player. A submission to LO is on the to-do list of most contemporary writers. In its existence of three eventful years LO has achieved this. Helming the outfit is Scott Waldyn. He answered my emails with customary verve. Perusing his take on all things literary fills one with sense of joie de vivre. Over to the gent himself.
Interview by Sanjeev Sethi
Tell us a bit about yourself.
My Linkedin page says I'm a writer, editor and entertainer, and I feel that's fairly accurate. What I mean is, I like to have fun. I like to make people feel good. That's the angle of attack I choose for almost everything I try to accomplish. I'm somewhere between a fully realized court jester and a forgotten 60's Batman villain trying to inspire my community to rise up and counteract the negativity out there, and my chosen weapon is the pen. It's been that way since day one, apparently. My grandmother often reminds me that when I was a baby, her and my parents put a bunch of random objects on a table to see which one I would choose. She says I chose the pen. I suppose that's what I'd call prophetic.
I choose to write because I love the smell of paper. You know that library smell? It's wonderful. It's a classical scent, ancient and mythological in an age where almost everything is digital. It reminds me of my youth too, of days sitting in front of the television watching Ray Harryhausen epics like 'Jason and the Argonauts' and being fascinated with this sense of adventure. That book smell is a throwback to fun, to a time long before Facebook political rants and media misinformation.
Like some crazy mystic digging through the ruins of a forgotten temple, I want to bring it back.
How did you get the idea of starting LO? Why did you call it Literary Orphans?
This sounds silly, but Executive Director Mike Joyce and I conceptualized Literary Orphans while grilling chicken. It was a summer afternoon, and we were confiding in each other our thoughts on life, literature, art, etc., as we normally do. We talked about marketing and brand identity and how we were living in an age where it was hard to discern what was real and what was advertising. We also talked about the serializing and franchising of entertainment and how devoid of soul much of it was. Creators who wanted to tell a complete story, who wanted to convey some sort of meaning, idea or feeling were seemingly being left without an outlet. They were being orphaned.
The more we talked, the more we conceptualized this idea of building a network, so these "orphans" could share with one-another. Literary Orphans, in the beginning, was really the simple idea of cutting through the merchandise-tie-in bullshit and getting back to basics -- the purest definition of what it means to communicate with someone. It was about sharing one soul with another, opening up and relating to another human being without trying to sneak in product placement.
One of our founding principles was that everyone could find benefit in Literary Orphans. The goal was to build a hub where the man or woman working with his/her hands could seek solace and refuge at the same location the academic could. We wanted to avoid playing to genre as much as possible, instead opting for a digital, back-alley sanctuary.
The orphans part was easy. We added "Literary" to the front so that people would recognize it was a digital magazine. When you tell someone on the street that you run a site called "Orphans," it's not very clear. They need some extra information. Saying you run "Literary Orphans" gives them that extra missing piece and forms something more of an idea in their minds.
What do you think is the average profile of the reader?
That's a very good question, and it's a hard one to pinpoint, as we actively try to engage different audiences. We have a lot of fans in the indie publishing community, for example, but we also have many fans who seek us out solely to hound our nonfiction pieces over at our sister site, The Tavern Lantern, too. Furthermore, we have a TEEN SPIRIT category that encourages younger, aspiring creatives to interact with us, allowing them to appear alongside some of our older, more recognizable names. Our average readers are mothers and fathers, sons and daughters, older and younger, workers and students. Like the United States, we do our best to be a melting pot.
What are broadly your parameters for choosing a poem or fiction piece?
Two things. The most important aspect is that our readers have to feel something. We have to be able to read a piece and take away something -- an idea, an emotion, a thought. The second aspect is that there has to be some uniqueness to the piece. There has to be something slightly different or original about a selection to grasp our attention. We have to be able to pick it out from a line-up of similar pieces and carry it home with us in our memories.
Most editors have biases. When you select a piece do you see it in its context or do your inherent likes and dislikes impact the decision?
That's another fantastic question. It's true, we all have our biases, and even though we may try our best to go into a piece with a clear mind, it's so very difficult to approach anything in life without some sort of bias. At LO, we try to curb this problem by having readers on staff vote and comment on pieces. Comments are taken into consideration, and votes are tallied up. The pieces we select may not always have the highest votes, but they received the best, most passionate reactions from our readers. The beautiful thing about our process is, not everyone on staff is going to like a piece that's selected. But someone did. And that someone had strong, well-crafted arguments on why any selected piece is a piece for us.
What is the reason for mentioning the time?
We're a world constantly on the go. Not everyone has the luxury to set time aside and plow through an entire magazine. By telling readers the average amount of time a piece will take to read, we've removed the guess work on exactly how much time someone has to set aside. We've empowered readers to take advantage of that 20-minute cab ride, that lunch break or that flight home. Readers will know if they can squeeze a story or two in a moment of respite, if they'll be able to come to full cathartic release before the cab fare is due. By adding the time each piece takes, we've taken a step in killing second thoughts.
Do you see differences between American creative expression and from other parts of the globe?
I'm a huge fan of international literature. I've been in love with it for years. What's most amazing to me are works written by non-native English speakers. Since English isn't their first language, these authors play with the style and conventions more freely, and it can be a very beautiful, awe-inspiring experience. To that end, I've noticed this more playful style in submissions that have come to us at Literary Orphans. That's the big difference I've noticed. Though some writers may have unique experiences or events that have happened in their lives, the idea of what it feels to be human is pretty universal. On some level, we all can relate to one another. We all can feel and empathize and share in emotions. HOW we share those emotions, though, that's what can make the difference.
In some ways, I do feel those born within the United States do take our American manner of expression for granted. We haven't questioned or explore our own conventions to the fullest, perhaps because we're so used to it, having had it ingrained in us from day one. But there are other ways of thinking and expression across the globe. Fresh eyes and a different native tongue can go a long way approaching the gift of language.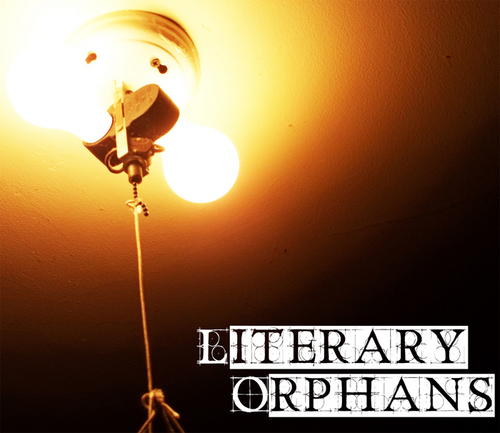 Literary Orphans is more of a mood than a style. It's that feeling you get when you're approaching something uncomfortable and self-reflective.
Does acceptance of a piece by a non-American mean it has blended with the American concerns? Is there a mono-idiom or do you think there are differences?
Yes and no. As I mentioned earlier, I feel there's a shared human experience we can relate to across the globe. It's vast, overarching and something of a generalized wave of emotion we can all tap into and commune through. That said, different groups of people have specific problems that are more identifiable within their cultures, politics or geography, making it harder for outsiders to understand. When we connect those problems with our emotional responses, however, I feel outside audiences have the capacity to empathize and relate. When a piece by a non-American is accepted, then, it can mean more than one thing. Certainly a piece could blend with American concerns. It also could be one where American audiences didn't quite understand the problem but found beauty in the prose, and in some way, were able to make an emotional connection with the author. The short answer is that it varies.
If you read a piece blind will you be able to recognize if it is by an American or a non-American?
Most of the time, yes. I sometimes make assumptions based on how playful the author is with the English language or its structure. Other times, the topic or subject matter can be a dead giveaway.
Is there any taboo topic in Literary Orphans?
We've had our fair share of pieces that deal with topics some might find uncomfortable. We don't consider any topic itself to be taboo, rather the tone could fall under the banner of being taboo. That said, the times where we found ourselves contemplating the issue of censorship have been few and far between, and the last piece I remember being taboo with some of our readers, we ended up publishing. The subject matter was rough and difficult to read, but the author's voice was speaking from something of an objective perspective, leaning slightly in favor of the victim. The intention was to scratch past the surface of an issue, and that, ultimately, was why we ruled in favor of it.
And a favorite theme or style that has more chances of acceptance?
Just write a great story. Whether it's more in line with the literary step, a space adventure, a horror thriller or whatever else, we just want a complete, thoughtful piece from a unique voice. As we mention on our "about" page, Literary Orphans is more of a mood than a style. It's that feeling you get when you're approaching something uncomfortable and self-reflective. It's the slow decay eating away at the wall beneath that newly slapped-on poster.
Is there anything else our readers need to know?
LO may seem dark, moody and a little artsy, but we like to have fun too. Fun pieces (humor pieces) are more than okay to submit to us. We love them.
The recently released, This Summer and That Summer, (Bloomsbury) is Sanjeev Sethi's third book of poems. His work also includes well-received volumes, Nine Summers Later and Suddenly For Someone. He has, at various phases of his career, written for newspapers, magazines, and journals. He has produced radio and television programs.

His poems have found a home in The London Magazine, The Fortnightly Review, Allegro Poetry Magazine, Solstice Literary Magazine, Off the Coast Literary Journal, Hamilton Stone Review, Literary Orphans, Crack the Spine Literary Magazine, The Peregrine Muse, Otoliths, Café Dissensus Everyday, The Bitchin' Kitsch, Section 8 Magazine, Futures Trading, and elsewhere. Poems are forthcoming in Sentinel Literary Quarterly, Ink Sweat & Tears, First LiteraryReview-East, Pyrokinection, Meniscus, The Jawline Review, The Open Mouse, Drunk Monkeys, Amaryllis Poetry, and Harbinger Asylum. He lives in Mumbai, India.