"The Next Thing is Happening Here." A Conversation with RW Spryszak, Editor of Thrice Fiction
"The Next Thing is Happening Here." A Conversation with RW Spryszak, Editor of Thrice Fiction


Spend some time with an issue of Thrice Fiction and you'll find a welcome mix of the alternative and the traditional. The stories in Thrice Fiction find new pathways to get under your skin, and once there, they tend to stick around. Editor at Large RW Spryszak offers his thoughts on publishing, diversity, your Uncle Ralph's train set, and much more.
Interview by Chuck Augello
There's no shortage of literary journals. How does Thrice Fiction hope to distinguish itself from other publications?
There are great small press journals around. And I mean great. Each one brings its own aesthetic into the picture. In my opinion these journals, as a group, are where the best stuff is happening. The fact that there are so many is a bonus for everybody.
But here's the thing. In the old days, big publishing houses would let their heavy hitters make the money, and then they'd take chances on work that wasn't as marketable. This created cult classics that became something special as time went on. Think Flannery O'Connor. Think Ann Quin. This isn't the case as much any more. The publishing industry is not as interested in taking those chances as they once were. But new forms, new ideas, and new writers still happen. The fact that there are so many of these journals around is like a market force. Just because the Big 5 isn't as interested, and the big-name magazines seem a little self-serving and incestuous at times, doesn't mean the writing has stopped. The small press journal is one of the few places where you can find the newer, less commercial work. The next thing is happening here. Even if it's a little hit or miss. So the more the merrier.
At Thrice, we decided right from the start that we weren't going to be interested in a writer's resume. I don't read cover letters, and I think we even ask submitters not to bother. What's happened is that we've ended up with a lot of writers who've never been published anywhere before. There's usually one or two in each issue. One of these days I'm going to sit down and add up the people we were the first to publish. In sixteen issues, as of this writing, I think we may have twenty or more of them. So we're happy to tout that, primarily.
The other idea is that we team up a work with an artist who goes over the piece and creates original art for it. Every story or flash or whatever it is gets that treatment. We generate original art for every piece. I don't think anybody else does this to the degree we do it.
On your website the DNA of Thrice Fiction is described as coming out of the alternative zine subculture. Tell us about how the journal started.
In the late 80's and early 90's I had a small zine called The Fiction Review. It was a journal started in Seattle by S.P. Stressman and when she closed shop I contacted her with my idea to take it off her hands and bring it to Chicago. So she sent me this big box of stuff. It was wild. This was the era of the great "alt-zines" – the kind of pre-internet renegade journals that came and went and you could probably only find on a street corner handed out free or listed in the old Factsheet5. I'm talking John M Bennett's Lost and Found Times, Mike Miskowski's Mallife. It was stuff known as Mail Art. There were either no rules or the rules were broken on purpose. It was non-poetry poetry. It made a nod to Dada. People grabbed random things off the street and published it. And it was fun. In those pages, even of the most oddball venues, you'd find stuff Bukowski sent in. Sheila Murphy. Lyn Lifshin, Thomas Wiloch. Richard Kostelanetz. Great stuff.
Well the internet came along and it sort of went into exile. Plus times changed. The post-punk 80's that spawned a lot of these writers ran out of steam. It could be a little self-destructive at times, too. So that was that.
Fast forward fifteen to twenty years and the focus changed. Social media. Blogs. Things like that. Well, as kind of a lark, really, Dave Simmer and I decided to set up a magazine that at first was just going to publish fellow bloggers in the kind of community we'd all developed into. The first issue went out, and the next thing we knew people were coming out of the woodwork to be a part of it. So Dave took his background in art and media, from which he makes his living, and I introduced my network of writers and here we are.
We are now a 501(c)3 and a Not For Profit publisher about to publish two stand-alone titles this year. A novella by Joel Allegretti and a collection of work by the late Chicago poet and performance artist Lorri Jackson. There ya go.
Describe the process by which submissions are reviewed.
Outside of the mechanics of coming through Submittable, which is a requirement for me because otherwise I will – and have – lose the submission somewhere in the canyons of my laptop, it's fairly standard. I don't care what your name is or what you've done in the past. I love to read and I love to be surprised. I've said this before but it's so true. If I look up and discover I'm on page 4 before I even realize I'm reading – you have a pretty good chance we'll use you. You just know, you know? I can get past the bad punctuation and spelling errors unless they come on like an avalanche. Then I start to wonder. Still, everybody gets a shot. But if the writer takes forever to get going, forget it. It's short fiction. Come on. The whole key is to make me notice without feeling contrived. Don't say "this is a story about..." Just do it. And let it go.
As the reading goes on and I start separating things and moving them around I can see odd connections start to happen. It's probably only happening in my head but, hey, what else is there to go on?
I do have to pay attention to length and end-product book size, and sometimes I have to turn stuff back that's really good but just won't fit. In fact I have that a lot.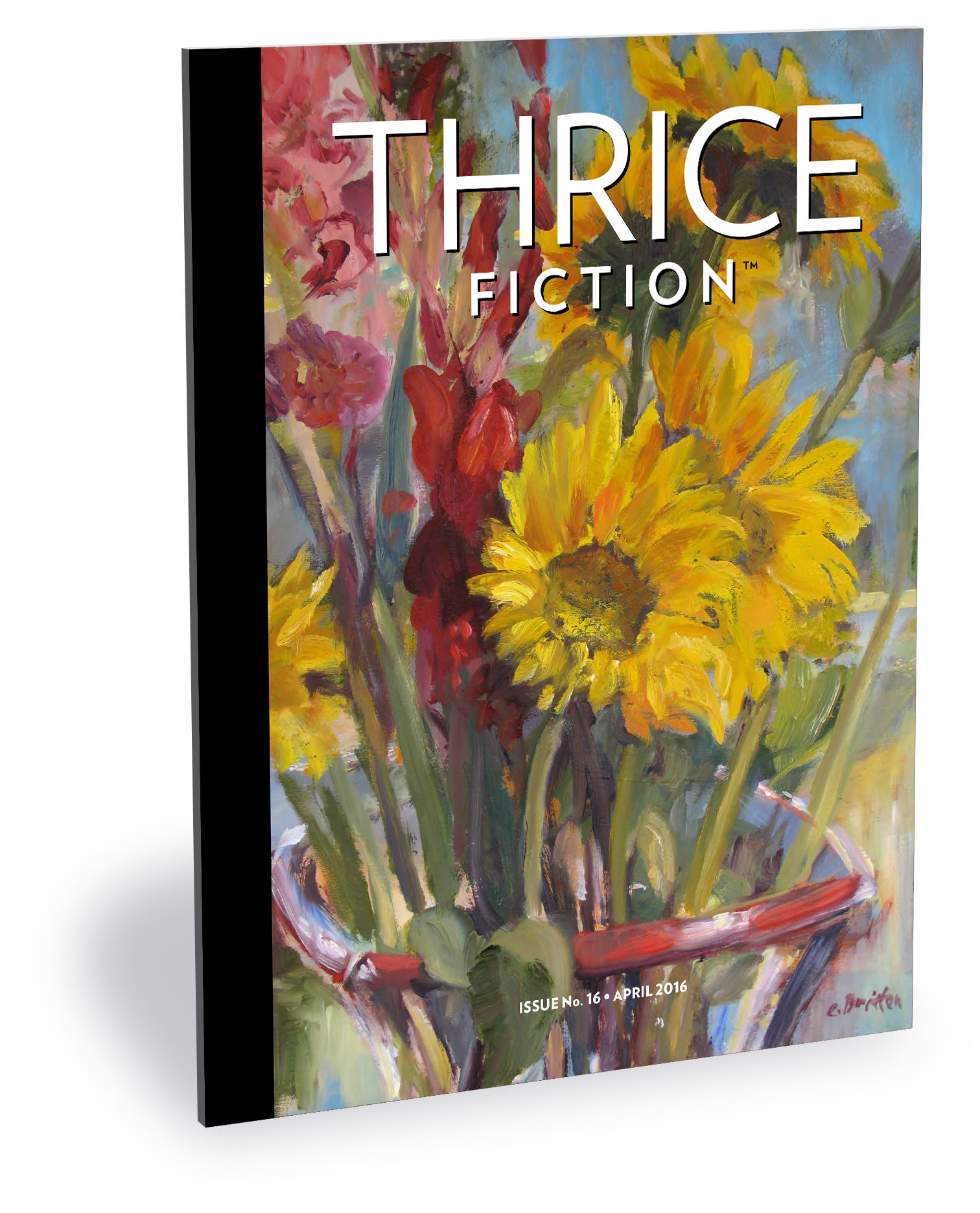 I don't care what your name is or what you've done in the past. I love to read and I love to be surprised.
Much has been written lately about the lack of diversity in literary fiction. How does Thrice Fiction handle that issue?
You know what I've found in the last year or so is that as open minded as we like to say we are (and by "we" I'm talking about people who put out small press journals – all of us), there is a kind of segregation that appears in this kind of endeavor whether you like it or not. It's not intentional – I hope – but more based on associate circles. What Lawrence Halprin wrote about in The RSVP Cycles. It's a matter of "who knows where you are." Writers tend toward peers. They form their associations as they see fit. So there may be a venue open to all styles and viewpoints, and there may be great writers in one community or another. But if these two don't know about each other nothing happens.
Just this year we've sought out and started placing our submission calls in more community-specific based associations. There are groups on social media, for example, that are collections of Muslim writers, African-American writers, gay writers, or whatever. I think there are voices and experiences that need to be heard there. And I think we need to build a venue that takes them in.
What's wrong is for an editor to say "well I need to have a this/that/these kind of person so I'll pick this story even though it's kinda, you know, not all there." That would be cheating the readers and it would also be insulting the this/that/these people. Who wants to be tokenized? All anybody ever asks for is a fair shot. If they make it – fine. If they don't – that's still fine. So long as they had the chance. The writing, like I say, still has to be there. I have confidence it is. I have a feeling we haven't yet seen the writing that will come to evolve from the modern street culture, for example. Maybe it hasn't developed yet, or maybe it has developed but it's just not being seen outside of that world. It's just a matter of people knowing we're here. I think we've made a good start with that.
Thrice Fiction is visually appealing, with original artwork accompanying each story. How do you see the art complementing the prose? Do authors have approval of the art paired with their story?
Dave Simmer is the guy behind this aspect of the magazine. Dave and I have a standing agreement – and it's never been more than a handshake. I pick the stories. He does the art. He can suggest a story or a writer, and I can suggest a form or an artist. But when it comes to the writing it's my call, and when it comes to the art, and layout and so forth, it's Dave's call. That's how we roll. Dave makes his living with art. So for me to impinge on that with something more than a suggestion would just be stupid.
There's an interesting note to this. The process that Dave goes through for every issue is always explained on his blog (www.blogography.com). He takes every story and explains how he came to the decision on the art. You really need to see that.
Plus we have a bullpen filled with artists and photographers, and have also had guest artists of some note participate. I invite your readers to go to the Thrice web site and click on "Artists" right after they visit Dave's blog and see just what a staff this is. We're not talking no-name amateurs here.
As far as approval by the writers is concerned, no. That's a corner we cut. It's already a nightmare for Dave and me to put a magazine together three times a year. Now, that said, I don't know that when the ball is in Dave's court he hasn't had a conversation or two with the writer. But I don't think that's happened much. And I have to say when writers contact us, they usually like how he "did that."
The journal is available for free online in PDF form, but also available in print and as an e-book. Why is it important to make the work available in different formats?
It's simple common sense, really. We want to be seen and read.
I suspect there has been another result to this though. And it's a guess. I know a lot of journals would like to claim this, but we actually do have literary agents reading here. And I'm not talking about the hucksters who will "represent your book after we edit it for you for just a few hundred bucks cuz, my friend, YOU are a bloody genius." I know about those, and I can send your readers to a web site called "Writer Beware" if you'd like a list of those kinds of thieves.
No. I'm talking about legit, association membership, working list of published authors, we don't get money if we don't place your book kind of agents.
I have sent two such agents the contact information for two such writers. It is within the realm of possibility that having all these formats makes it easy for such minded to find. And I give kudos to those very few agents who do read the small press journals. The fact that most don't just shows me that those, in particular, don't get it.
On average, how many readers does each issue have?
Over the past couple of years we have seen anywhere from 3000 to 5000 hits from individually identified sources for an issue. That's a verified number of individual hits from that internet service that counts that stuff, whatever it is called. Not me sitting there accessing the site over and over until my eyes fall out.
A favorite story in your most recent issue is Smiling Buddhas by Nancy Hightower. What was your response when you first read it? What did the story show you that made it a "Yes"?
Perfect example of what I like. I don't have a name for it. But in that piece you get the feeling Nancy just blew a hole in her head and is allowing you to sit there and watch the wheels turn in her brain. It's a voice. It's this meshing of wit and resignation. It's like diagraming an idea instead of a sentence. She hit all my buttons on that one. She creates a character that connects right away. We wend our way through the crazy minefield in the character's head and when we're done, if we know nothing else, we know just about everything we need to know about this narrator. Talk about a perfect character study.
For Nancy Hightower to do that with a handful of words and pull it off? That's first rate brains.
Do you see any recurring patterns with submissions? Are there certain character types or narrative elements that pop up too frequently?
Yes. Damn John-Boy Walton crap. Then there's the damn suicide story. You know, "I'm going to show just how avant garde I am and write a story about a suicide. MY suicide, mwa hah hah." Do that once and that's enough. We've done that already. Please. Spare us the dramatics and just kill yourself already, you know?
I get stories about people's damn pet dog. The time they were in the damn third grade. When Johnny Mulberry God damned kissed me, for Christ's sake. Well – actually – if it was written like that it might be good.
My complaint is that every issue we've ever produced can be read for absolutely free. There's no excuse to send me a memoir about your Uncle Ralph's damn train set in the damn basement. Again.
What is the easiest way to get rejected?
The obvious use of a Thesaurus. Or too much patois. Or I'm asleep by the third sentence. Too many "hads." Adverb after tedious adverb. Or suicide stories.
Do you have any particular advice to writers who plan on submitting to your journal in the future?
Entertain me. Don't be afraid to write to reach somebody. You know, pick one person and write to them. If you've never been published, try us. We have the nicest, sweetest, most gentle rejection letters in the business. I can't stand editors who feel compelled to riff on how bad your story is. They can shove that right back up their ass. Unprofessional turds.
Send me the stuff you wouldn't want your wife or husband or mother to see. Send me the stuff you've done that you can't really explain. And you know what else – funny. Send me something funny. Catch me right from the start. I don't mean a gimmick, I mean make me want to know what happens next. That thing you always wanted to try and never knew where to send? Here. Right here.
That said, I want to make the point that we have also published some very traditional material. Things I considered to be undeniable for either the story or the craft of it. If that's your thing by all means I'll read it. But a couple of things. Just like Elmore Leonard says – "if it sounds like writing, rewrite it." There is a place for well-crafted, more traditional fiction here. Take a look.
Finally, if the planet Earth had to submit one story to represent literature at its best, which story would you pick?
What am I drinking the day I get it? That will have a lot to do with my answer.
Chuck Augello lives in New Jersey with his wife, dog, three cats, and several unnamed birds that inhabit the back yard. His work has appeared in Smokelong Quarterly, Juked, Word Riot, Hobart, Jelly Bucket, decomP, and other journals. He has a MFA from Queens University and is the fiction editor at Cease, Cows.